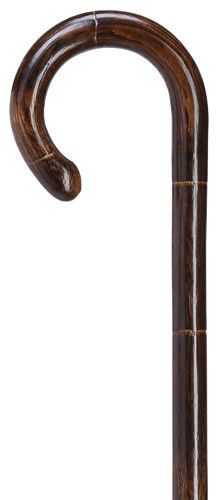 Wm. Burke Sticks
Luxury Wood Cane | Oak with Score Marks Walking Stick Cane | Crook Handle | Finest Quality
Sterling & Burke's finest quality Scorched Polished Oak Crook Walking Stick / Cane, hand produced in England from a single piece of wood.  This has been scorched (darkened with heat and fire) and scored creating the appearance of 16 sections.  It is tapered more than others from 3/4" to 5/8" in diameter.
Our finest quality, hand produced walking stick.  Hand produced in the UK and imported to America. 
Priced without a Collar.
Available with the addition of a Palladium Collar (looks like polished chrome), Gold Plated Collar, and a Hallmarked Sterling Silver Collar.
Palladium Collar: + $30.00
Gold Plated Collar: + $55.00
Hallmarked Sterling Silver Collar: + $75.00
Engraving services are available:
Machine Engraving allows for three initials only.  The fee for machine engraving is $45.00.  Machine Engraving is available for all of our Collars.
Hand Engraving may be more flexible.  The fee for hand engraving initials is $80.00.  Please allow us to know if you wish to have more than initials engraved.
Hand Engraving is available on Sterling Silver only.
Our Luxury Wood Sticks are Hand Carved and bent with steam using traditional methods.
Made in England.
A Metal ferrule is provided with a rubber ferrule (tip on the end) available.
Embellishments include assorted metal collars available for engraving.

Our standard length is approximately 36 inches.  We are able to produce sticks shorter and longer.  Please allow us to know the length you require.   
Please click here for assistance in determining the proper length of a Cane / Walking Stick.
---
Share this Product
---
More from this collection