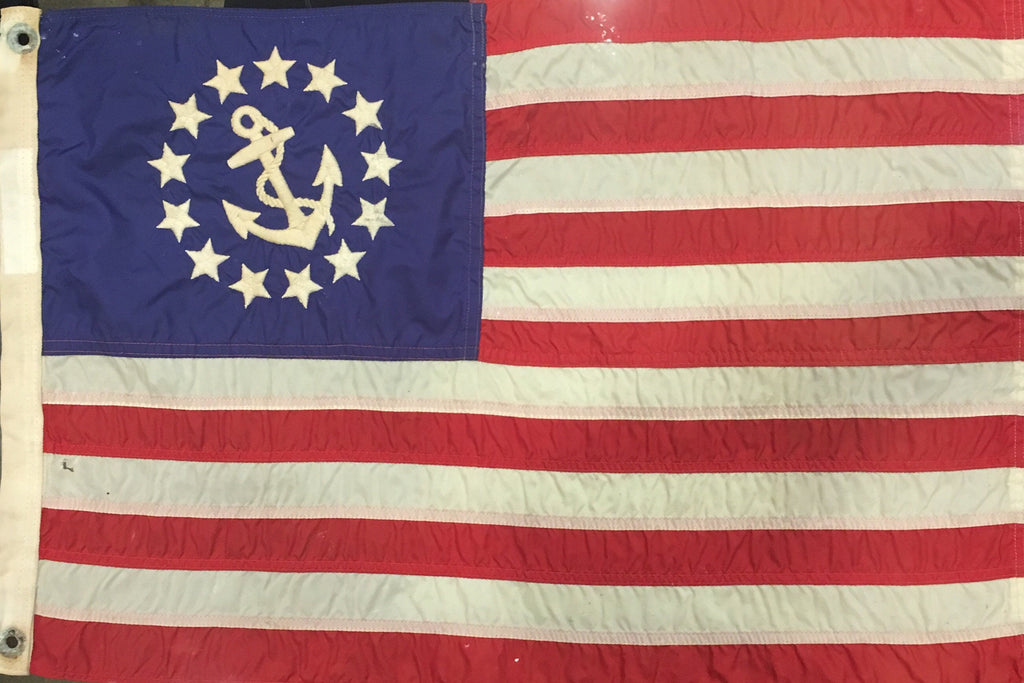 Gallery at Studio Burke DC
FDR Art Flag | Franklin Delano Roosevelt Vintage Flag with Anchor | 21 by 14 inches | Vintage / Antique
Franklin Delano Roosevelt Flag with Anchor, 21 by 14 inches (unframed measurements). Flag will be framed in a beautiful traditional frame. Offered with Museum Level Framing of your choice.
A Certificate of Authenticity will be provided.
FDR 13 Star Private Yacht Flag with Anchor | 21 by 14 inches | Vintage / Antique U.S. Yacht Ensign

U.S. Yacht flag has an embroidered field and sewn stripes. This flag is also called the anchor flag or boat flag. The U.S. yacht ensign is a variant of the national ensign in which the union consists of thirteen stars in a ring surrounding a fouled anchor set diagonally.

Flag etiquette on a boat begins and ends with the problem of which ensign, or national flag, to fly and where to fly it. Sailors and all other boaters who are United States citizens may choose between two flags, the usual 50-star national flag known as the ensign, or this special flag called the yacht ensign that, in place of the 50 stars standing for the states, depicts a fouled anchor on a field of 13 stars.
The story of these two ensigns is an interesting one. In the early to mid-19th century, most yachts looked like fishing boats and other commercial vessels. Ports charged a local duty to visiting commercial craft, whose skippers often attempted to convince customs officials that they were pleasure sailors. The officials ignored those claims and collected fees from all entering boats, including yachts. Under pressure from yachtsmen, the American and British governments independently approved special national flags to be flown only from yachts. In the United States, the yacht ensign was designed by the officers of the New York Yacht Club in 1848. It remains a legal national flag for boats in US waters.
STUDIO BURKE DC | 1619 K Street, NW | Washington, DC 20006 | Enquiries@StudioBurkeDC.com | +1.202.331.4224
---
Share this Product
---
More from this collection