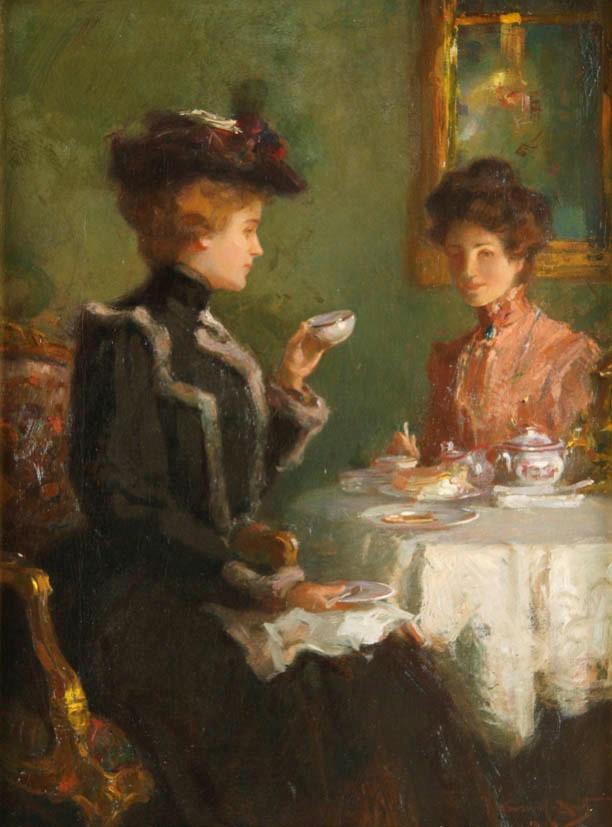 Guarisco Gallery at Studio Burke DC
Antique Oil Painting | A Cup of Tea, 1904 by Walter Granville-Smith | 18" x 22"
Antique Oil Painting | A Cup of Tea, 1904 by Walter Granville-Smith | 18" x 22" 
This artwork sold. Artwork removed from S&B on Monday, October 15 2018. 
Walter Granville-Smith 
American, 1870-1938
A Cup of Tea, 
1904
Signed and dated '1904' lower right
Oil on canvas
16" x 12" unframed
18" x 22" framed  
b. S. Granville, N.Y., 1870
d. New York City, 1940
Walter Granville-Smith was a highly regarded illustrator, a painter whose career spanned the first four decades of the twentieth century.  Smith worked in oil and watercolor and his charming genre scenes of young children and women involved in leisurely activities along the shore, in parks, and along city streets, were well received and many were well known through publications. 
Granville-Smith studied at the Arts Students' League in New York City with William Satterlee, Carrol Beckwith, and Willard Metcalf-all successful and progressive American artists.  He further honed his artistic training at the Academie Julian in Paris. 
Upon returning to the United States, Granville-Smith settled in New York City-he lived at 96 5th Avenue for 35 years-and began exhibiting works at the Art Institute of Chicago, the Boston Art Club, and the National Academy of Design.  He was a prolific artist who executed elegant genre scenes as well as impressionistically rendered landscapes.  Granville-Smith exhibited widely and frequently, and his work became well known; many of his watercolors were reproduced as illustrations for some of the leading publications of the era, including Harper's and Scribner's Magazines.  
Walter Granville-Smith won numerous awards for his work, including prizes at: National Academy of Design (5), West Indian Exposition, Charleston (1), American Watercolor Society (2), Worcester Art Museum (1), Art Institute of Chicago (1), Exposicion International, Buenos Aires (1), and the Salmagundi Club (6)
Please allow us to know of your interest:
Sterling and Burke Ltd
Georgetown, Washington, DC
Next to Four Seasons Hotel
1.202.333.2266
---
Share this Product