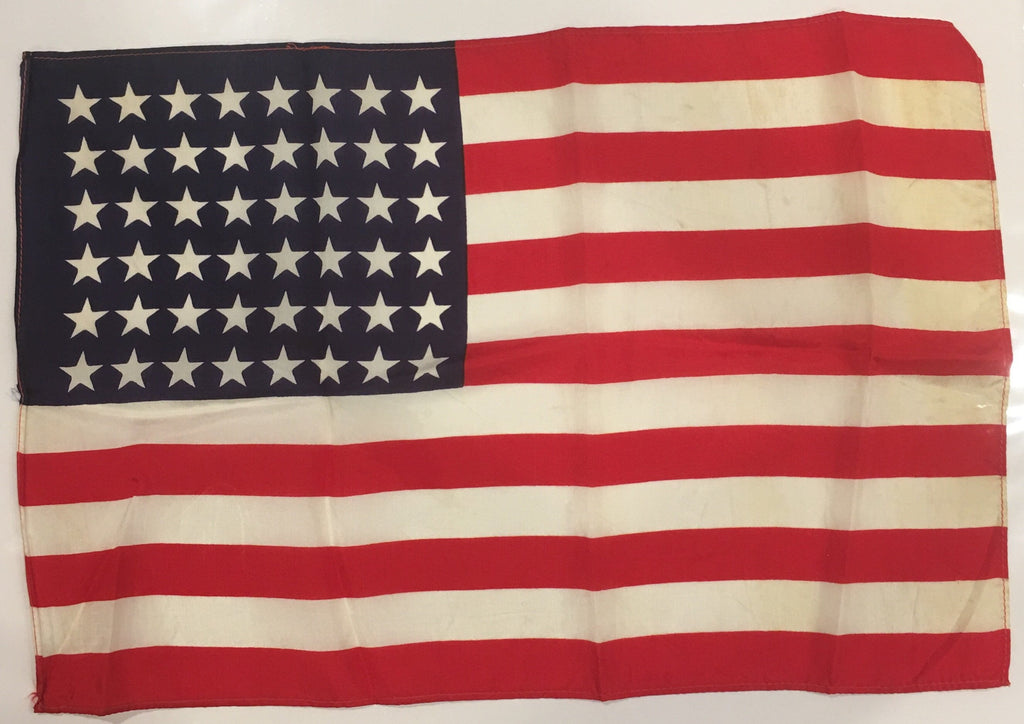 Gallery at Studio Burke DC
American Flag | 48 Star Vintage US Flag | Silk | 17 by 11.5 Inches Unframed | No.3
American Flag | 48 Star Vintage USA Flag | Silk | 17" x 11.5" | No.3 | Sewn Bordered Edge
The 48 Star Flag: On July 4th,1912 the U.S. flag grew to 48 stars with the addition of  New Mexico (January 6th, 1912) Arizona (February 14, 1912). 
Executive Order of President Taft dated June 24, 1912 - established the proportions of the flag and provided for arrangement of the stars in six horizontal rows of eight each, a single point of each star to be upward.
This flag was official for 47 years, longer than any other flag, through two World Wars and the emergence of the United States of America as the leading nation of the world.
Eight Presidents served under this flag: William H. Taft (1909-1913),  Woodrow Wilson (1913 - 1921)  Warren Harding (1921 - 1923),  Calvin Coolidge (1923 - 1929),  Herbert Hoover (1929 - 1933),  Franklin D. Roosevelt (1933 - 1945),  Harry S. Truman (1945 - 1953) and Dwight D. Eisenhower (1953 - 1961) 
The pricing includes an all-wood frame and mounting on archival materials under glass. The cost of delivery will be determined after it is framed.

GALLERY at STUDIO BURKE LTD
Washington, DC
1.202.331.4224
Gallery@StudioBurkeDC.com
---
Share this Product
---
More from this collection